Move and removals in safety
since 1988
Contact us for your moving
Per l'italiano

---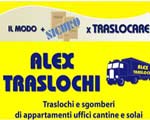 Contacts of Alex traslochi "the moving company"
Email of Alex traslochi: info@alextraslochi.it
Contact us. We are in Via della Torre 35 in Milan. To contact us without drive and produce useless CO2 you can easily send us a message. Write an email to us by copy and paste alexestefi@gmail.com or if you use a client like Outlook or others click here: alexestefi@gmail.com we are open from Monday to Friday from 9.45 till 12.30 and from 14.45 till 18.30
Instant communication with thelephone: 02/2619165 02/2820448

Email:

alexestefi@gmail.com

info@alextraslochi.com

Both email are daily checked.

Ciao and thank you
contact us as soon the request a
quotation for your moving
.
Special offers:
Free furniture storage first

month

Clearing out services

Bed rooms from

690 Euro

Kitchen composition

-from euro 1690-
Move easy and anywhere with Alex moving company

For information about your moving: 022619165



Thank you!