Move and removals in safety
since 1988
Who we are
Per l'italiano

---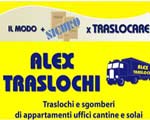 The moving company Alex traslochi
Who we are and suggestions on moving
Do you have to move house and have many things to carry? Furniture, books, clothes, dishes and other objects? Do it with us!!!

Totally dismantling a house (the content) and fill another it is not an easy task
Anyone who has ever moved knows what it means to pack all the belongings, make an inventory and then arrange the transport to the new place. The only solution will be to consult a specialized company: the Alex Movers, Alex traslochi, a company specialized in national and international moving that has been operating since 1988, and ranks among the most qualified operators in the industry. Gone are the years when the moving was done with hard work, bringing up and down along the stairs boxes and furniture. Now we use aerial platforms and other modern equipment that allow a great saving of time and certainly a safer and smooth way in material to be moved.
The men are led by the owner of Alex traslochi Mr. Crispin, with all the available technology and extensive experience in the industry, that Mr. Crispin proves that he has from the first contact.
Quote your moving

Moving everywhere (almost) in the easy way.
Special offers:
Free furniture storage first

month

Clearing out services

Bed rooms from

690 Euro

Kitchen composition

-from euro 1690-
Move easy and anywhere with Alex moving company

For information about your moving: 022619165



Thank you!